Slow cooker chicken casserole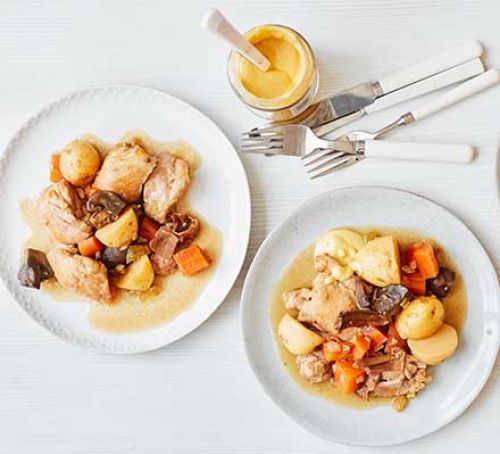 If we are lucky enough to have an electric hookup then pack your slow cooker and cook yourselves this delicious low fat wholesome chicken casserole(only uses two pots 🙂 ). Then just sit back and let your slow cooker do most of the work .
Ingredients
Knob of butter
½ tbsp rapeseed or olive oil
1 large onion, finely chopped
1 ½ tbsp flour
650g boneless, skinless chicken thigh fillets
3 garlic cloves, crushed
400g baby new potatoes, halved
2 sticks celery, diced
2 carrots, diced
250g mushrooms, quartered
15g dried porcini mushroom, soaked in 50ml boiling water
500ml stock made with 2 very low salt chicken stock cubes (we used Kallo)
2 tsp Dijon mustard, plus extra to serve
2 bay leaves
Method
Heat a knob of butter and ½ tbsp rapeseed or olive oil in a large frying pan, cook 1 finely chopped large onion for 8-10 mins until softened and starting to caramelise.
Meanwhile, put 1 ½ tbsp flour and a little salt and pepper in a bowl and toss 650g boneless, skinless chicken thigh fillets in it.
Add 3 crushed garlic cloves and the chicken to the pan and cook for 4-5 mins more until the chicken is starting to brown.
Transfer to your slow cooker, along with 400g halved baby new potatoes, 2 diced celery sticks, 2 diced carrots, 250g quartered mushrooms, 15g dried and soaked porcini mushrooms with the 50ml soaking liquid, 500ml chicken stock, 2 tsp Dijon mustard and 2 bay leaves.
Give it a good stir. Cook on Low for 7 hours or High for 4 hours.
Remove the bay leaves and serve with a little Dijon mustard on the side.