South Wales DA's very own Feast of Lanterns is this weekend 4th – 6th October
This weekend we are camping in the field right next to Cwmdu Village Hall which we have booked for our use on the Saturday evening.
We camp on a nice level field with fresh water and an elsan point. Set in the Brecon Beacons National Park this is an ideal location for getting out and exploring the area.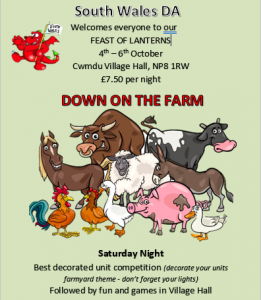 This is the venue for our very own Feast of Lanterns(FOL), mirroring the National Feast of Lanterns, this years theme is Down on the Farm, so start collecting(or save and bring your decorations from the NFOL) and decorate your 'vans with a farming theme for the weekend or if you rather, decorate it with your led lights or if you just want to camp with us that's OK. there is no pressure to decorate.