Lamb Burgers
(Serves 4)
450g minced lamb
3 tablespoons porridge oats
1 teaspoon dried rosemary
salt and pepper
1 beaten egg
a little flour
Mix together all the dry ingredients then blend with enough beaten egg, form into burgers about 3/4 inch thick. Roll each burger in flour and chill. Barbecue over medium hot coals for 20 minutes, turning once.
---
Chinese Ribs
Marinade
3 tablespoons soy sauce
3 tablespoons tomato puree
3 tablespoons water
3 tablespoons sherry/red wine
3 tablespoons clear honey
1/2 teaspoon garlic paste
1/2 teaspoon ground ginger
Trim the fat from the ribs and place in a bowl. Combine all the ingredients for the marinade and brush over the ribs. Cover and leave for 1 to 2 hours. Grill the ribs over medium coals for 20 to 30 minutes turning frequently and brushing with the remaining marinade.
---
Garlic Prawns
(Serves 4)
75g butter
1 teaspoon garlic paste
pinch chilli powder
dozen unshelled king prawns
lemon wedges to garnish
bread and salad to serve
Melt the butter and garlic paste and chilli powder. Barbecue uncooked king prawns over medium coals for 4 minutes each side, basting with garlic butter frequently. Garnish with lemon and serve with salad and bread.
---
Jacket Potatoes
Choose medium even sized potatoes and wash clean. Rub with butter and wrap in double layer kitchen foil. Bake in hot coals for 40 to 45 minutes (until soft), turning occasionally
---
Quick Barbecue Sauce
Mix a generous amount of tomato sauce with a splash of tabasco sauce, garlic paste, soy sauce and a pinch of paprika. Stir thouroughly and serve.
---
Vegetable Kebabs
Part boil large pieces of carrot and potato. Drain and cool. Thread onto skewers with pieces of onion, red and green peppers, mushrooms, courgette and whole cherry tomatoes. Brush with oil and lemon juice and cook over medium coals for 10 minutes, turning once.
---
Satay Sauce
1 small onion, peeled and chopped
1/2 teaspoon garlic paste
1 teaspoon ground ginger
pinch chilli powder
1 tablespoon lemon juice
175g crunchy peanut butter
1/4 pint of water
Put all the ingredients into a pan and bring to the boil, stirring, simmer for 5 minutes.
---
Chicken Satay
(Serves 4)
Cut 4 skinned and boned chicken breasts into cubes and tread onto skewers with pieces of red and green peppers, whole cherry tomatoes, mushrooms and pieces of onion. Brush with oil and grill over medium coals for 15 minutes, turning once. Serve with boiled rice and satay sauce (made as above).
---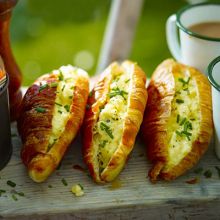 These breakfast baps with creamy eggs are camping-friendly, but work just as well as a casual brunch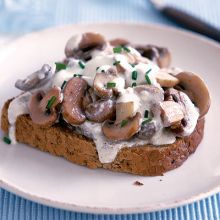 Chestnut mushrooms in a creamy sauce on delicious wholegrain toast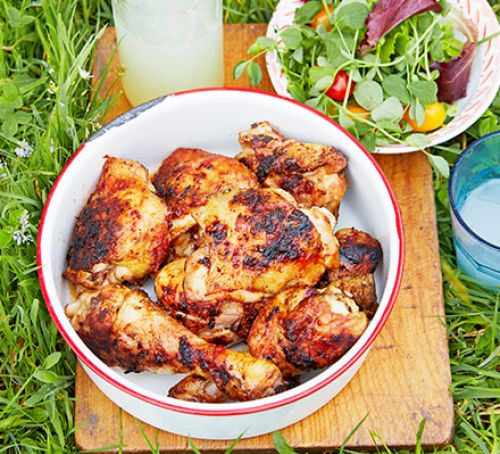 Nothing beats sticky chicken with barbecue sauce. Start in the oven to make sure it's cooked properly, then grill over hot coals for that lovely BBQ flavour…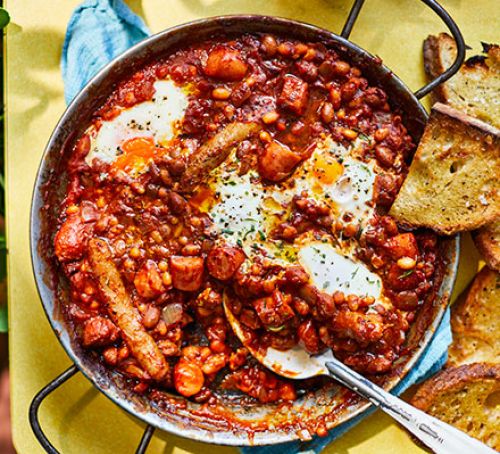 Rustle up this fantastic smoky bean breakfast with chorizo, chipolatas, eggs and mixed beans. It's perfect for a camping holiday or serving dinner to a crowd…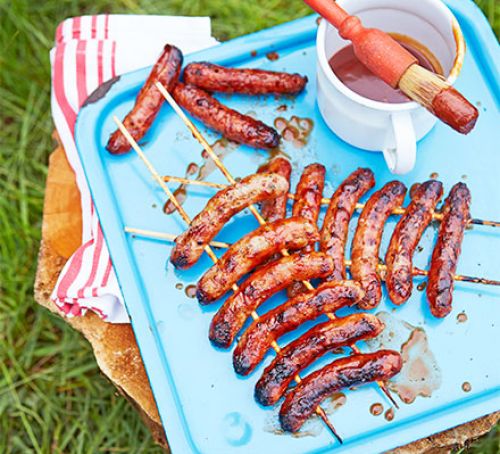 Light a bbq and grill these sausages with a smoky tomato sauce, perfect for kids and adults alike. They're great for a family barbecue or a camping holiday…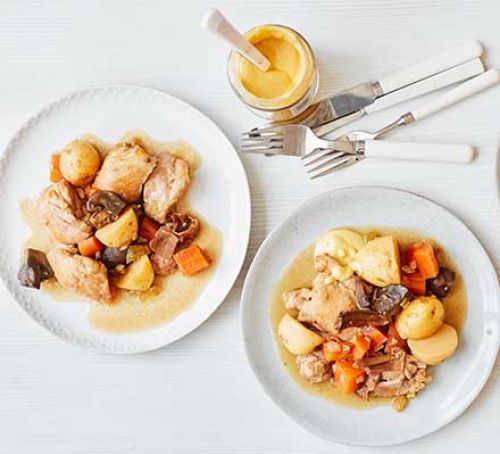 If we are lucky enough to have an electric hookup then pack your slow cooker and cook yourselves this delicious low fat wholesome chicken casserole(only uses two pots ). Then just sit back and let your slow cooker do most of the work .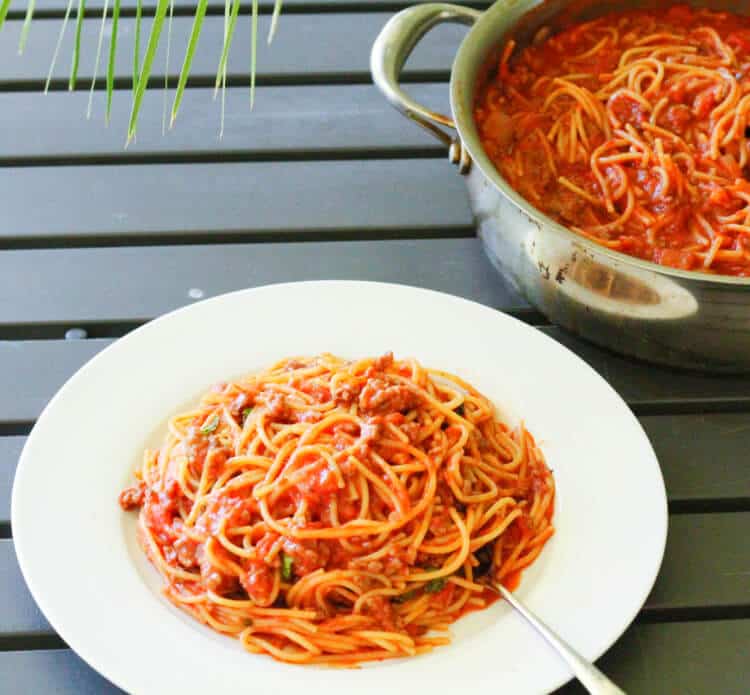 About the only drawback to this meal is that the smell of homemade spaghetti sauce is sure to bring your neighbours around… so be sure to make a little extra!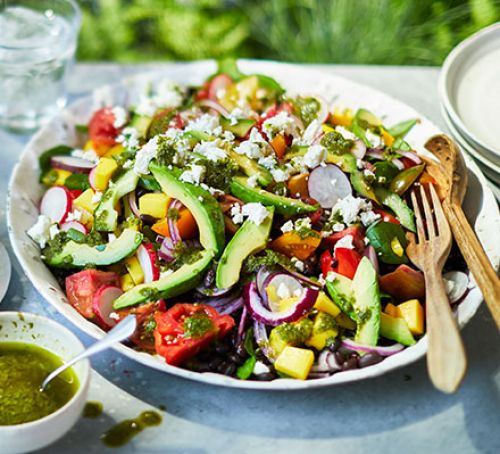 Perfect for BBQs and buffets, this is an assembly job of gorgeous ingredients – no cooking required. Serve it with lamb kebabs for an impressive summer feast…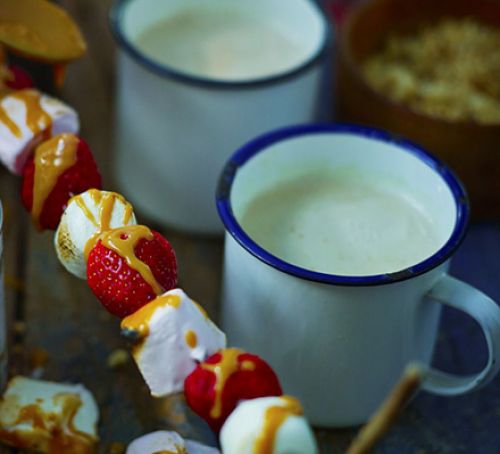 Warm up little hands around a campfire with a mug of creamy warm milk- you can enjoy them indoors, too